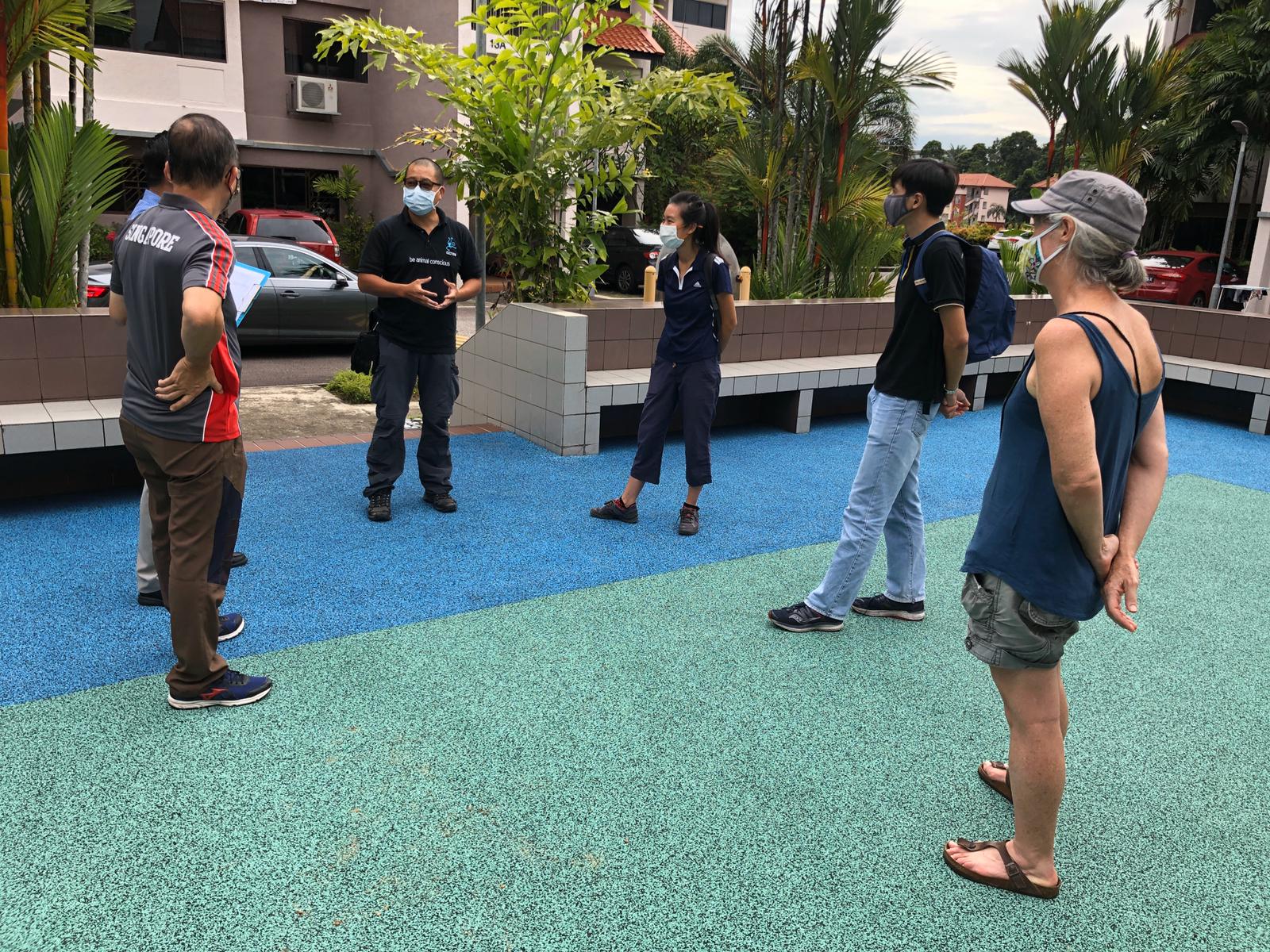 [

4

minute read ]
Do you always find yourself coming across articles or videos featuring macaques making a cheeky appearance at the Nanyang Technological University (NTU) campus and hostel grounds? While oftentimes they do not cause a lot of trouble, tensions between humans and macaques arise due to a lack of information on how one, when encountering these seemingly-hostile animals, should handle such situations.
This is where the JGIS Wildlife Ambassadors team steps in to bridge understanding and mutual respect between humans and primates. The team's primary aim is to inform and inspire the public about primates through interactive workshops and open discussions. Living in Harmony (LiHo) (yes, it coincidentally has the same name as the bubble tea brand), is the name of one such workshop in which audiences are free to ask questions throughout the session. Members of the Wildlife Ambassadors team are trained to give informed LiHo workshops — one of which happened very recently in collaboration with NTU!
Macaques, who are native to Singapore, are forest dwellers. As NTU is located near a recovering secondary forest, it is no surprise that there are rapidly increasing incidences of macaques roaming around NTU's hall residences! Dr. Melvin Chen, who is a professor at NTU, is spearheading the efforts to protect these macaques from human harm by setting up the NTU Pro-Tem Committee. For one, a surveillance log was introduced for spectators to track monkey sightings around campus. The Committee has also created activity logs with information and observations about macaques.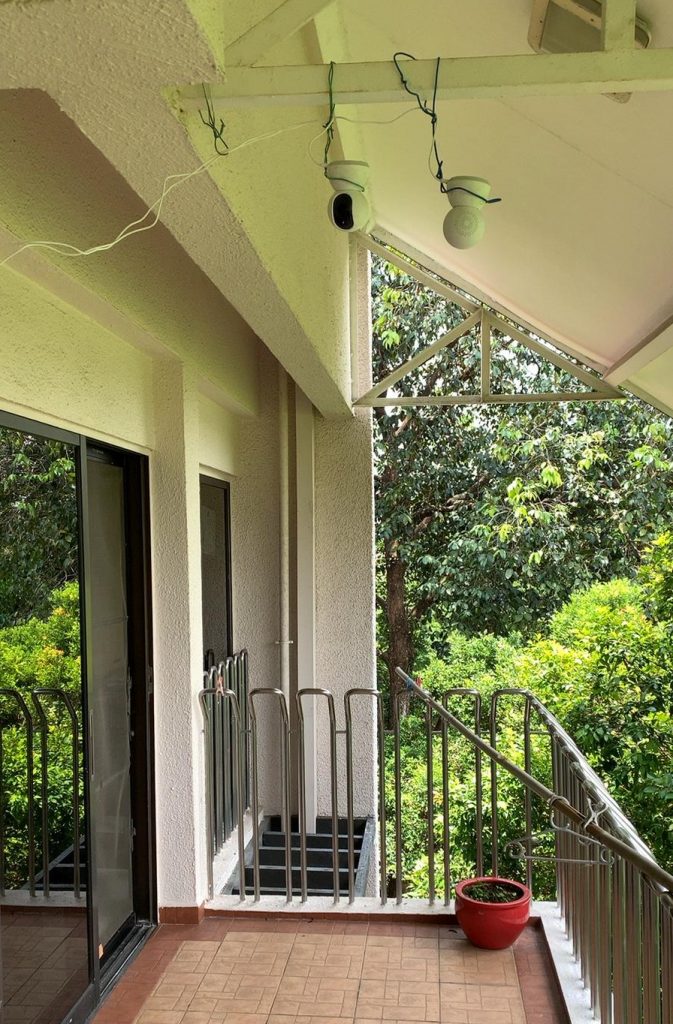 Installed surveillance cameras for monkey guarding (Credits: Tanya Pillay-Nair/JGIS)
In addition, to elevate these efforts, Su Ping from the JGIS Primates team engaged with other representatives from NTU, ACRES and National Parks Board (NParks) and lead the first LiHo seminar on 5 September 2020 via Zoom. There were 57 participants.
During the LiHo webinar, Su Ping explained the recently-enacted Wildlife Act, common macaque behaviours and how one should react when encountering them in public, while also busting some myths about macaques. This was followed by a Q&A session where the Joint Long-tailed Macaque Working Group (JLTMWA; which consists of JGIS, NUS, NParks, Wildlife Reserves Singapore) welcomed questions from the audience. In this session, they also discussed human-macaque conflicts, developed solutions and a standard operating procedure for dealing with human-macaque conflicts.
Other highlights from the Q&A session include advice from ACRES's Wildlife Management Executive, Joe Kam, for all students to close their windows and draw their curtains as macaques are very visual animals who are attracted to different (particularly food) incentives they see in the rooms. He also emphasised how timing is key when macaques are foraging for food — one can take note of the time the macaques forage and draw the blinds during these few hours, and it will hopefully take about two weeks before the macaques are reconditioned not seek food in that area. Proper waste disposal is also pivotal in ensuring that the macaques do not get access to leftover food. More importantly, the panelists also emphasised that the objective of the macaques is not to pick fights with humans — if anything, they value their safety above all else.
The highlights of NTU x JGIS LiHo collaboration include on-site visits, which were conducted with the hope of understanding the residents' concerns and sharing with them more information and tips about the long-tailed macaques that live in their area. The first on-site visit took place at NTU's Nanyang View, led by Joe from ACRES, Chanelle from NParks and Vilma from JGIS.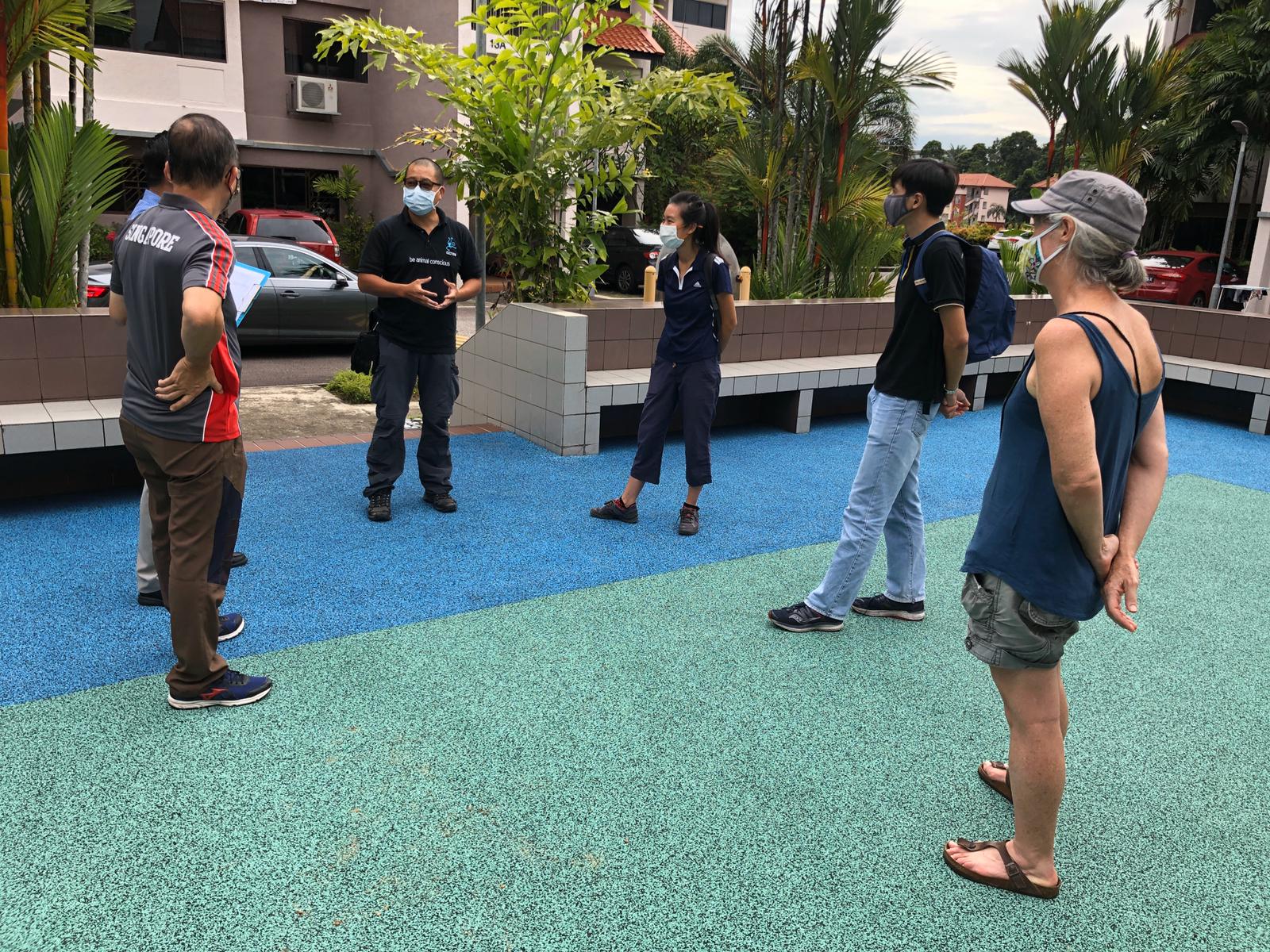 First on-site visit (Credits: Vilma D'Rozario/JGIS)
Although no monkeys were sighted during that two-hour visit, the team met with Dr. Melvin Chen, the conveyor of the NTU Pro-Tem Committee, and learned much about two macaques which were seen around their houses, and for some, within their units from faculty-residents. The team also visited student residence halls where the two macaques were seen and known to have entered units.
The second joint on-site visit was at a resident's home in NTU's Nanyang View. The resident shared that two monkeys entered her home and ate her fruits and biscuits, made a mess, and even attempted to steal two bear soft toys! Following the visit, Joe from ACRES then placed 2 cameras on the balcony to check if the monkeys would return. Unsurprisingly, they did return but the sliding doors were closed, so all they ate was the food in the boxes that were left out!
Evidently, a lot of learning, patience and understanding are required to counter potential tensions that may arise from macaques which share the same green habitats as humans. JGIS's new collaboration with NTU, along with the uplifting support from ACRES and NParks, is certainly an optimistic step towards a more harmonious habitation with our macaque relatives in Singapore!