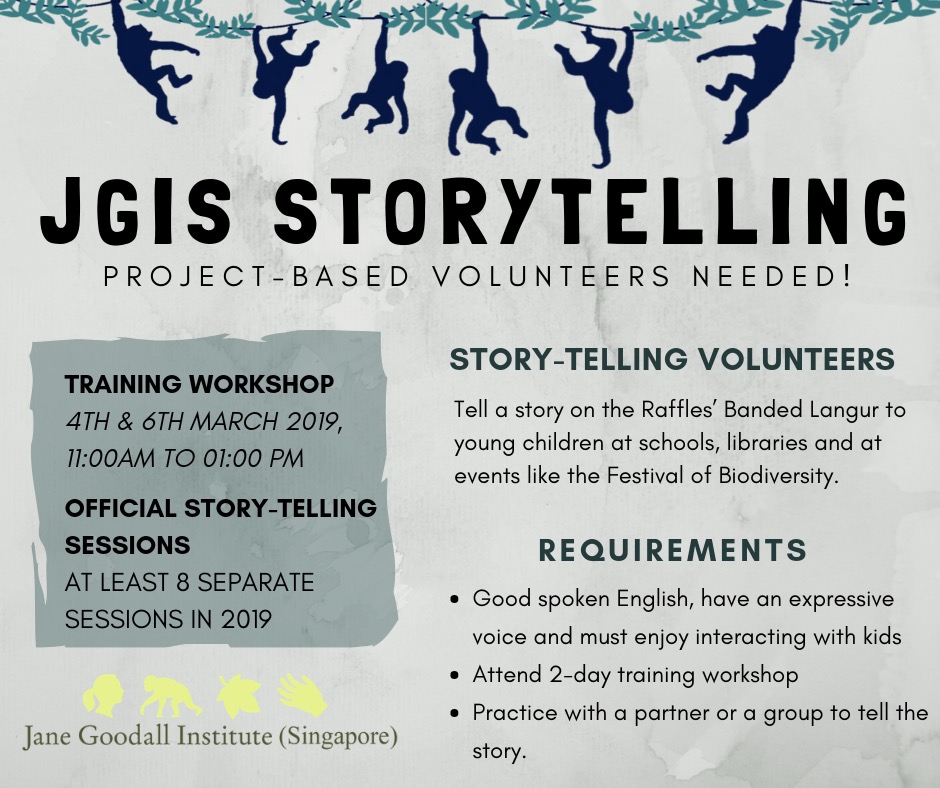 [

4

minute read ]
Are you interested in sharing stories and taking part in storytelling in our community? If so, we have exciting news! Jane Goodall Institute in Singapore is excited to inform our volunteers, as well as teachers, students, and members of Roots & Shoots about our new storytelling program for Kindergarten, Primary 1 and 2 students.
From April onwards, trained volunteers will be telling the illustrated story of Po—the Raffles Banded Langur, written by a group of students' from the Raffles Ecological Literacy Programme. We would like to reach out to all primary schools for opportunities to tell this story in classes or during green clubs, for 40 minute sessions, and work towards inspiring students to create and tell their own stories about the Raffles Banded Langur and other primates and wildlife in Singapore. Members of Roots & Shoots are encouraged to reach out to us to organize readings at their schools, as well.
Practice Makes Po-fect is about a young Raffles' Banded Langur who wants to leap through the trees as fast as his siblings. He can't of course until he learns and practices hard. And to help him, are his friends Colugo, Draco, and Snow the paradise treesnake! They all glide, however. They teach him to have confidence and persevere, and practice, practice, practice until he becomes a perfect leaper!
On March 4 and 6th, trained story-teller and former teacher Jessie Goh-Pillay trained volunteer readers for the storytelling program, and enrollment as a storyteller is ongoing. As a volunteer, you would be telling stories about the Raffles' Banded Langur to young children at schools, libraries, and at events like the Festival of Biodiversity. Through animated storytelling, you can spread the awareness of the RBL and the environment, and inspire and spark the imagination of children. If you don't have experience in story-telling, fret not! By signing up, we will enrol you in a storytelling workshop to learn how to tell the story of "Practice Makes Po-fect" with confidence 🙂 The official story-telling will span over 8 separate sessions in 2019.
We are looking for energetic individuals who enjoy interacting with children, have a strong command of the English language, an expressive voice for storytelling, and the ability to conduct the sessions independently/with a partner/as a group. Don't be shy! Contact us at community@janegoodall.org.sg if you have any questions about our project. If you work at a school that would like to invite our storytellers to perform, we would be delighted to hear from you!
Jane Goodall has always been inspired by her love of books and reading stories. Her own interest in primates was sparked by her endless hours of reading as a child, and she continues to encourage young readers to this day, as she says in a letter to children featured in recent anthology "A Velocity of Being: Letters to a Young Reader" (2018), a collection of letters to emerging readers from culture-makers including Neil Gaiman, Jerome Bruner, Shonda Rhimes, Ursula K. Le Guin, Yo-Yo Ma, Judy Blume, and Jacqueline Woodson, and included here:
"Dear Children,
I want to share something with you — and that is how much I loved books when I was your age. Of course, back then there was no Internet, no television — we learned everything from printed books. We didn't have much money when I was a child and I couldn't afford new books, so most of what I read came from our library. But I also used to spend hours in a very small second hand book shop. The owner was an old man who never had time to arrange his books properly. They were piled everywhere and I would sit there, surrounded by all that information about everything imaginable. I would save up any money I got for my birthday or doing odd jobs so that I could buy one of those books. Of course, you can look up everything on the Internet now. But there is something very special about a book — the feel of it in your hands and the way it looks on the table by your bed, or nestled in with others in the bookcase.
I loved to read in bed, and after I had to put the lights out I would read under the bedclothes with a torch, always hoping my mother would not come in and find out! I used to read curled up in front of the fire on a cold winter evening. And in the summer I would take my special books up my favorite tree in the garden. My Beech Tree. Up there I read stories of faraway places and I imagined I was there. I especially loved reading about Doctor Doolittle and how he learned to talk to animals. And I read about Tarzan of the Apes. And the more I read, the more I wanted to read.
I was ten years old when I decided I would go to Africa when I grew up to live with animals and write books about them. And that is what I did, eventually. I lived with chimpanzees in Africa and I am still writing books about them and other animals. In fact, I love writing books as much as reading them — I hope you will enjoy reading some of the ones that I have written for you."
-Jane Goodall