[

4

minute read ]
Held amidst the luscious greenery at the HortPark Multi-Purpose Hall, this exclusive dinner brought together some of JGIS' long term partners in the local conservation scene as well as some young and youthful faces. We had tremendous support from our sponsors, as seen in the array of auction items put up, and our guests were equally generous in their bids. The event, however, was more than just a fund-raising event and in Dr Jane's words, was to generate awareness. From the rapt looks on the faces of the audience when Dr Jane took the stage, it was indeed a night of inspiration for many.
The evening started with a welcome message from JGIS President, Mr. Tay Kae Fong, followed by an opening speech from Singapore's Senior Minister of State, Dr. Koh Poh Koon. Referring to Singapore as a little green dot, Dr. Koh pointed out how Singapore has carefully balanced green concerns such that in many areas, residents are but a stone's throw from a nature reserve. Having one of the highest densities of greenery in comparison to other urbanised cities, he highlighted the joy of living in harmony with nature, citing his own experience of meeting a family of otters along a park connector. On the topic of human-wildlife conflicts, he stressed the role that organisations like JGIS have to play in fostering better understanding and education of the public and urged all in the audience to embrace the cause for conservation.
Following Dr. Koh's speech, Dr. Jane urged the dinner attendees to tuck into their delectable vegetarian dinner of mesclun salad, cream of pumpkin soup and beetroot risotto. Only when the majority had their hunger sated did she take the stage. With her trademark chimpanzee-style greeting, she immediately caught the attention of the audience, who cheered and clapped in response.
Paying tribute to her own mother, she related memories from her childhood to highlight her point that we "all need support". She brought the audience back effortlessly in time by sharing unique incidents from her childhood. The time when she sat in a hen house for 4 hours watching the hens lay eggs when she was all of 4 years old, during this time her mother had gotten so worried she almost called the police!
Through her stories, we saw how much she had to contend with to follow her dreams. She lived through the poverty of war and when it stopped, she had to contend with limited career choices. As a girl, she would either be a nurse or a secretary and that was about it. Almost everyone she knew thought she was crazy to want to go to Africa.
Dr. Jane related the axiom taught by her mother that "if you really want something, you have to work really hard and take the opportunities when they come." Her own life is a testimony to the truth of that. She trudged through a "boring secretarial course" but never forgot her true passion. Thus, when she met Dr. Louis Leakey, she was able to impress him with her knowledge of animals, gleaned from countless visits to the Natural History Museum. He hired her as his secretary and that was how, at 23 years old, she found herself headed for Tanzania. The rest, as they say, is history.
From this inspirational start to her story, she moved on to highlight the similarities between the chimpanzees and us. We share over 98% of our DNA with them and like us, they have unique personalities. Like humans, they can be brutal but they can also show incredible care and empathy.
Her practice of referring to the chimps by name and writing about their feelings was initially rejected as being 'unscientific', but Dr. Jane has since taught science to understand that humans are not that different from animals, who have emotions as well. More importantly, as she pointed out, "if we didn't help the people have a better life, we couldn't help the chimpanzees", drawing us back to the key message of a holistic approach to environmental conservation. She ended off, as always, with a note of hope, to a standing ovation from the crowd.
The focus then returned to the items on auction and the paintings by Dao Van Hoang and Van Wangye, in particular, attracted a lot of attention. Volunteers from JGIS spoke about the organisation's mission and activities while attending to participants' inquiries on the auction items.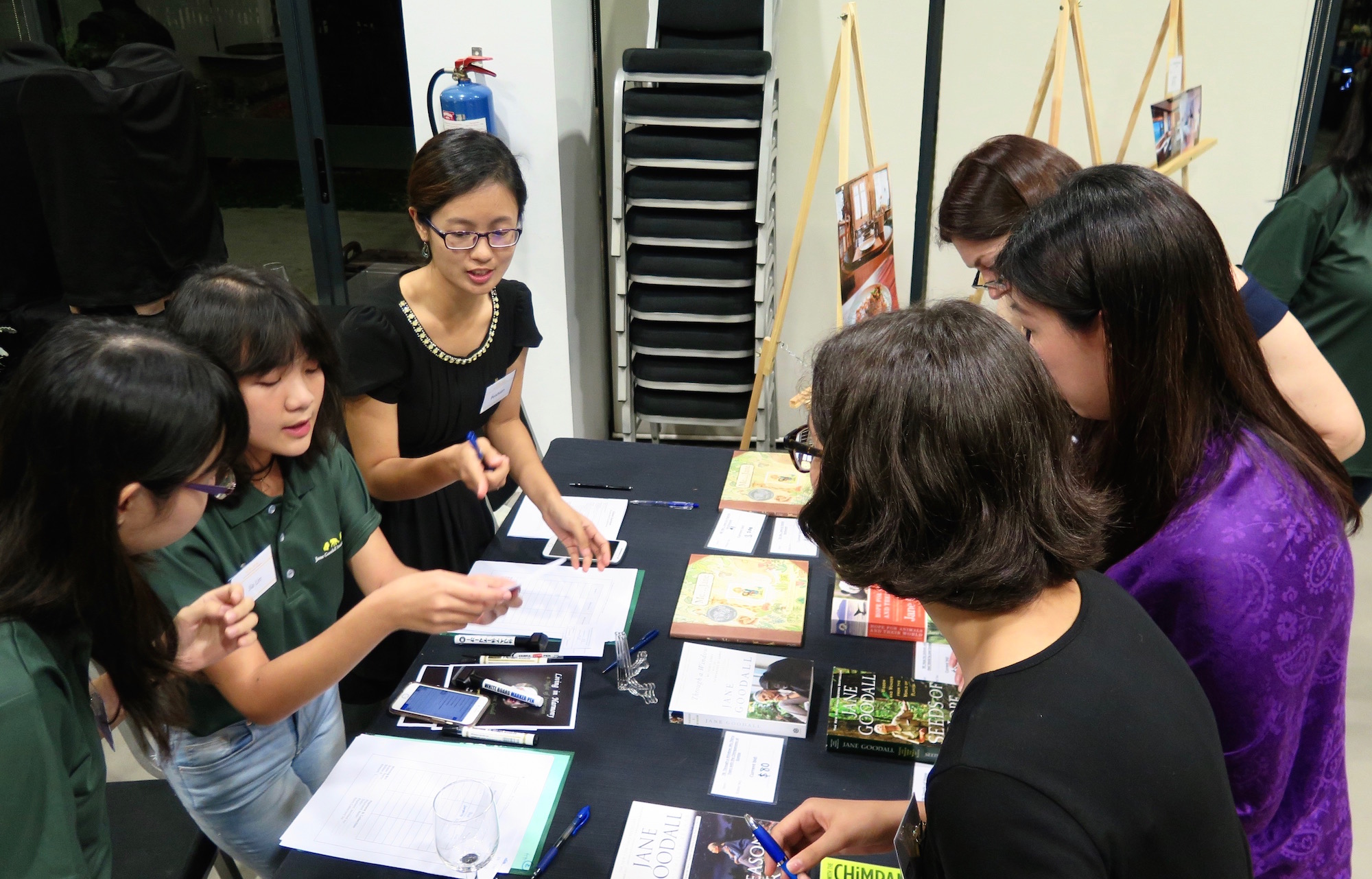 Additionally, local musicians Inch Chua and Tim De Cotta regaled the crowd by performing a few of their favourite tunes. From the smiles and laughter all round, it was evident both the performers and participants were having great fun.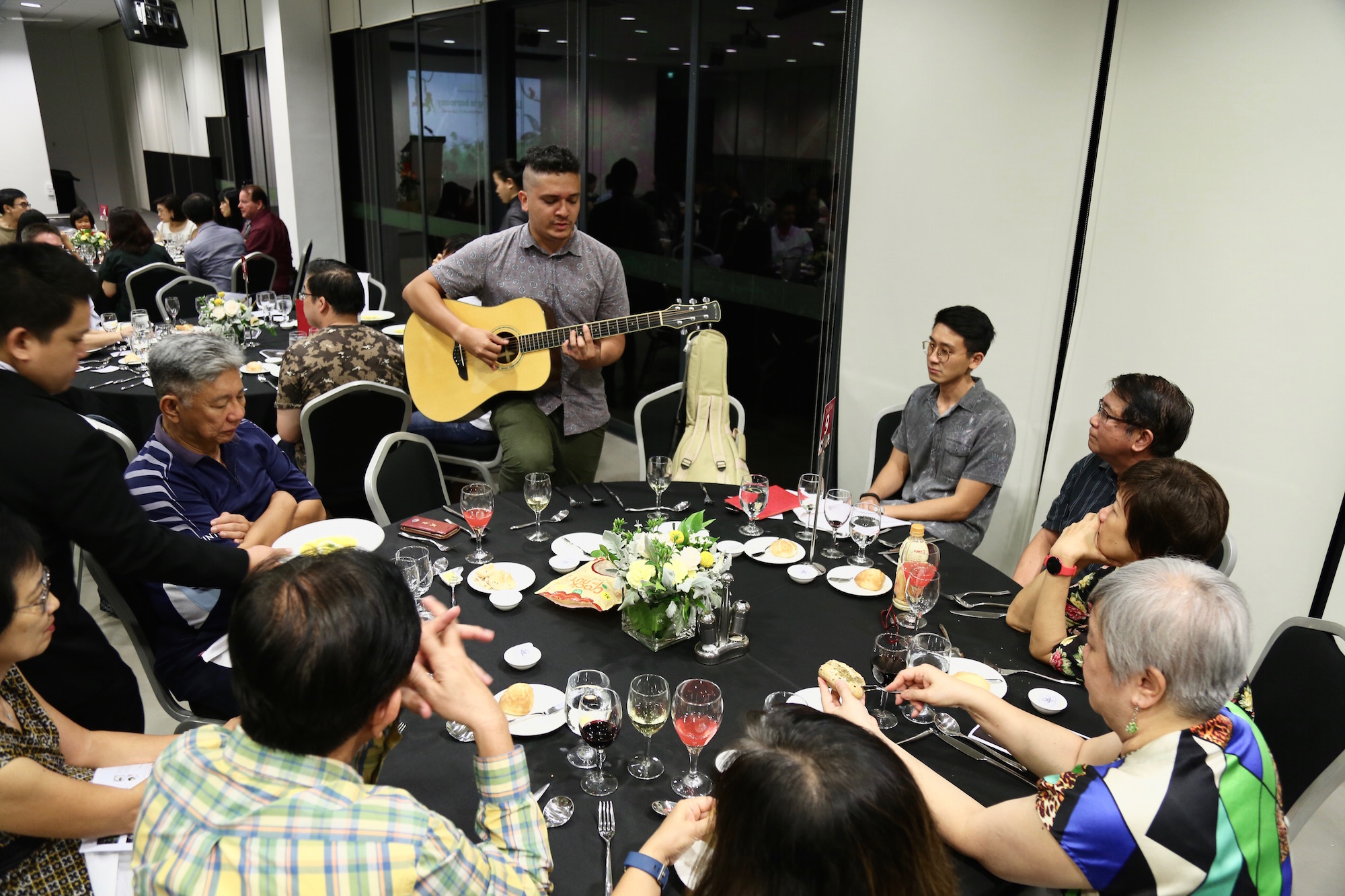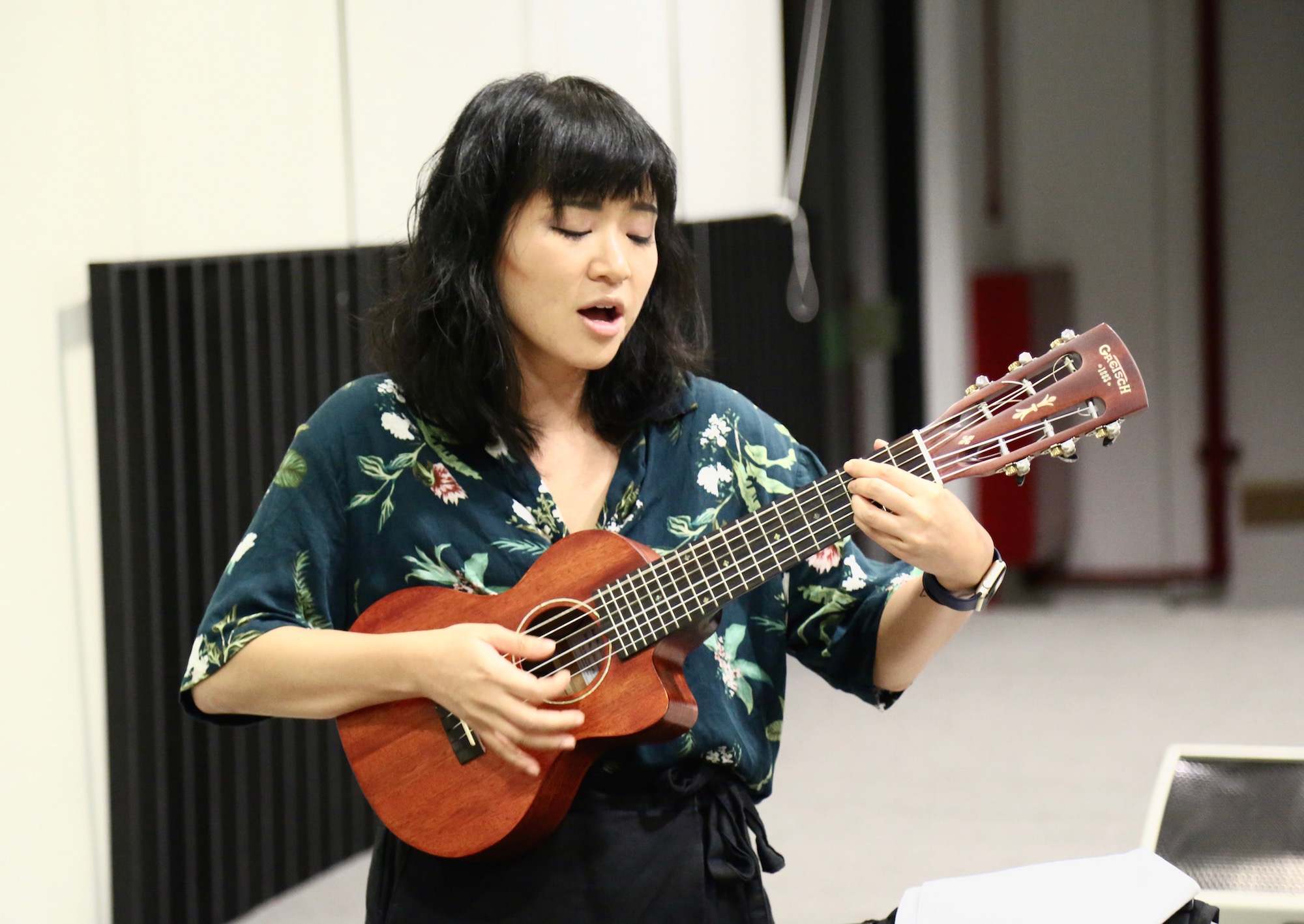 The evening finally ended on a sweet note, when dessert was served. Popular auction items such as the 2-night stay at the Banyan Tree Bintan Luxury Hotel and Hoang's painting "Raffles Banded Langur" were snapped up. Dr. Jane took her leave and it was evident from the reverent goodbyes and heartfelt hugs that, she had inspired many to do more for the protection and conservation of the environment.
Written by Heather Pong Yen Ting. Edited by Priya Shreedhar and Andrea Vincent.