[

4

minute read ]
By: Ong Shi Man
Introducing five eco-friendly cafes in Singapore that have joined humanity's quest in reducing our carbon footprint.
As the impact of consumerism is gaining attention, here's how you can have a sip of coffee with a clear conscience. Green is the new black. Not only are we trying to strike a balance between sustainability and growth, we can now do it in style.
Mahota Commune

Credit: TheRantingPanda
Mahota Commune is a multi-concept wellness store, which houses a restaurant, a cafe, a supermarket focusing on organic food, a traditional Chinese medicine (TCM) clinic— and even a pre-school— on one entire floor of Kitchener Complex three minutes away from Lavender MRT Station.
They have an organic farm in Shandong, China that practises sustainable farming.This means that it's environmentally responsible, so they make their own compost, returning organic nutrients to the land. At their farm, they growvegetables, herbs and grains certified free of man-made chemicals such as fertilisers and pesticides; and raise free-range chicken, other fowl and pigs. It's a farm-to-table concept: they cook the food that they grow themselves.
At Mahota. there is also an activity space hosting an array of body wellness and exercise classes such as yoga, meditation and kickboxing.
Find out more at http://www.mahota.sg/.

Where?
MAHOTA COMMUNE
809 French Road
Level 3, Kitchener Complex
Singapore 200809
6299 6809
Accessibility: 3 to 5 min walk from Lavender MRT, exit B
SaladStop!
Credit:Lulabyspoon.com
From March 2018, SaladStop! started charging a fee of 10 cents for each degradable plastic bag issued to patrons. Proceeds are donated to ACRES, an environmental welfare organisation in Singapore that rescues and rehabilitates animals confiscated from the illegal wildlife trade in Singapore.
In an interview with TODAY in 2017, Director of SaladStop! Ms Katherine Desbaillets said: "People these days are highly conscious of what they are eating and choose to opt for food that is nutritious as well as safe and sustainably sourced."
SaladStop! walks the talk with their #Meatlessmonday campaign, which encourages patrons to make a small change in their diet on Mondays with a huge potential to accumulate a 55% reduction in carbon footprint. It's a win-win situation for both the customers and Mother Nature.
Find out more at https://www.saladstop.com.sg/
Where?
Various outlets in Singapore
https://www.saladstop.com.sg/en/locations/
Crown Coffee

Credit: FoodinSing
Crown Coffee, based on a premium casual dining concept, imports Buscaglione coffee mix from Rome. If you're into classic Italian coffee from Rome and gourmet sandwiches, this is the place to check out!
Mr Keith Tan, Director of Crown Coffee, says: "When you visit Crown Coffee, you can expect good honest food with great coffee!" And he keeps his word. The cafe runs on solar power, to host an array of innovation and smart technology, such as their Swiss coffee machines, which have up to can produce 350 cups per hour via one operator. Another unique choice of equipment is their high speed panini grills that combine infra-red, microwave and hot grill to produce crispy paninis with melted within 50 seconds.
Find out more at https://www.facebook.com/crowncoffeesg/
Where?
Multiple Locations in Singapore
9488 1807
CT Hub 2
114 Lavender St #01-22
Singapore 338729
@SIT
Transform Building
#01-01
20 Dover Drive
Singapore 138682
VeganBurg
Credit: Gurkhason.wordpress.comVeganBurg call themselves the "world's first 100% plant-based burger joint", on a mission to inspire and excite the world to choose a plant-based diet as a means of planet restoration.
The founder, Mr Alex Tan, is fully aware that burgers and fast food will always be a "big chunk of our lives". But that does not mean that we cannot adapt and change our eating habits. "Together, we can fight climate change and start a food revolution," Mr Tan said. "Let's change the world, one burger at a time."
Find out more at https://www.veganburg.com/
Where?
VEGANBURG
44 Jalan Eunos
Singapore 419502
68446868
Accessibility: 5 to 8 min walk from Eunos MRT Station
Food Rebel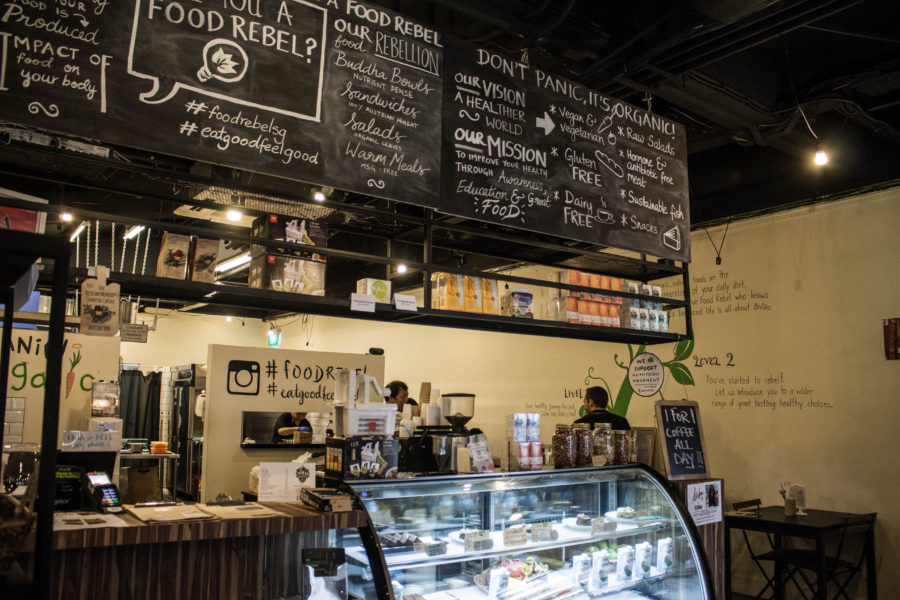 Credit: Asiastyle
Nutrition expert and health coach, Ms Elika Mather founded Food Rebel to promote healthy, delicious fusion cuisine with both Asian and Western influences. Organic food doesn't mean just tasteless salads. Food Rebel reinvents local and international recipes with fresh ingredients free from chemical additives. According to their website, they even make their own dressings and sauces— so their dishes are free of MSG and other "junk".
Find out more at https://www.foodrebelsg.com/
Kitchen by Food Rebel
28 Stanley Street
Singapore 068737
Accessibility: Short walk from Telok Ayer MRT