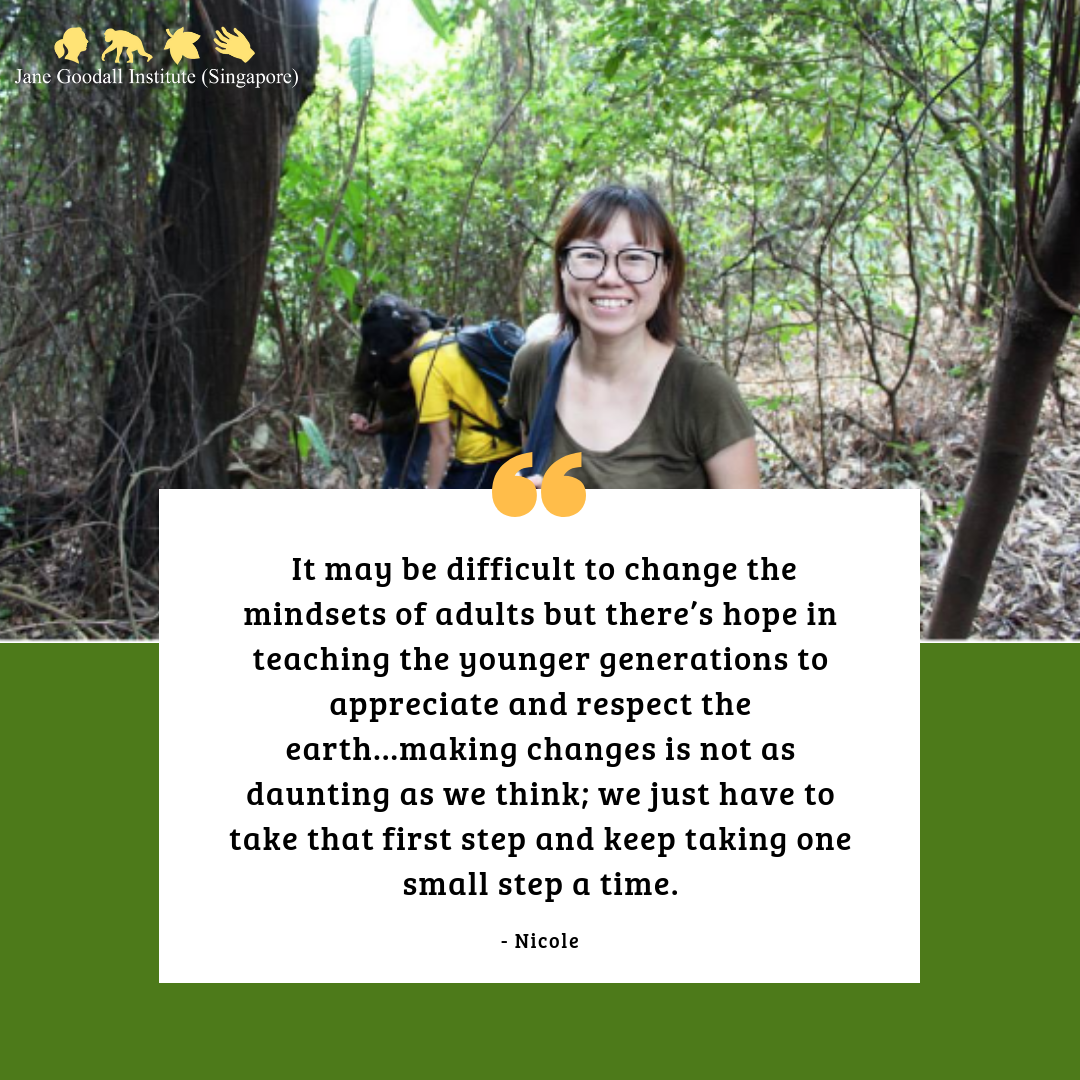 [

2

minute read ]
In this volunteer feature, Nicole Lim, will be sharing with us her experiences with JGIS and her work.
Tell us a bit more about yourself!
Hi, I'm Nicole, an aunty who grew up in a kampong in Hougang Sa Ko Jiok (MacPherson/Upper Serangoon area). My childhood was spent climbing trees and catching fireflies, spiders and fishes in the longkang. Nature was very much part of my life.
What made you join JGIS?
I have always admired Jane Goodall for the work she does. I have come to a point in my life where I'm questioning how I can do my part (even if it's just a very small part) to make this world a better place for all. Humans are not the only inhabitants on earth, yet we don't pay enough respect to the other inhabitants and our consumption habits have proven too destructive for the earth. So when the opportunity came, I decided to take the first step and see where it will lead me.
Tell us about your involvement with JGIS and your takeaways.
I help to coordinate between JGIS, NSS and schools that want to set up butterfly gardens in their compound. When a school indicates interest, I will arrange for the butterfly expert from NSS to recce the school to identify a suitable site to set up the garden. After which, preparation set in motion for the planting day. This includes getting the necessary tools, plants, soil, and also getting students involved in the project. Before the planting day, schools are advised to do a pre-garden survey to record existing numbers and species of butterflies in the school compound. Once the garden is up, the schools are required to carrying out post-garden surveys periodically to track the results. Once everything is done, we will submit the approved expenses for reimbursement and close the accounts.
My biggest takeaway is that the future belongs to the younger generation. Are we leaving them with a conducive living environment or are we leaving them with problems to solve? It may be difficult to change the mindsets of adults but there's hope in teaching the younger generations to appreciate and respect the earth. And lastly, making changes is not as daunting as we think; we just have to take that first step and keep taking one small step a time.
What is your most memorable experience from volunteering with JGIS so far and why?
Working on the garden with the students and getting my hands dirty, we had fun even though we were under the hot sun most of the time. We could see the results almost immediately! We spotted butterflies and eggs shortly after we started and we were very encouraged to know that a little effort could make a big difference.