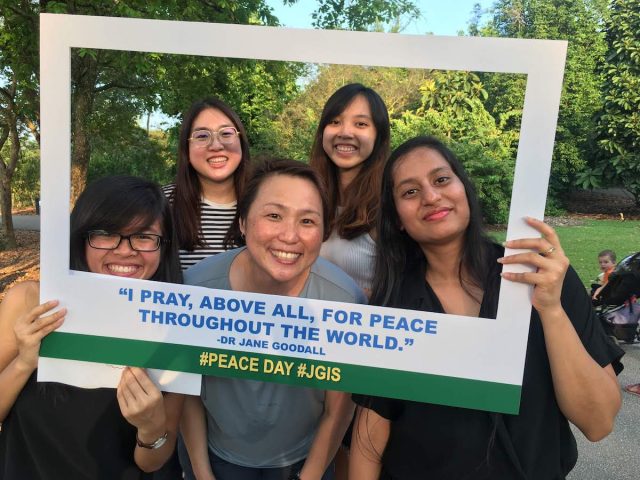 [

4

minute read ]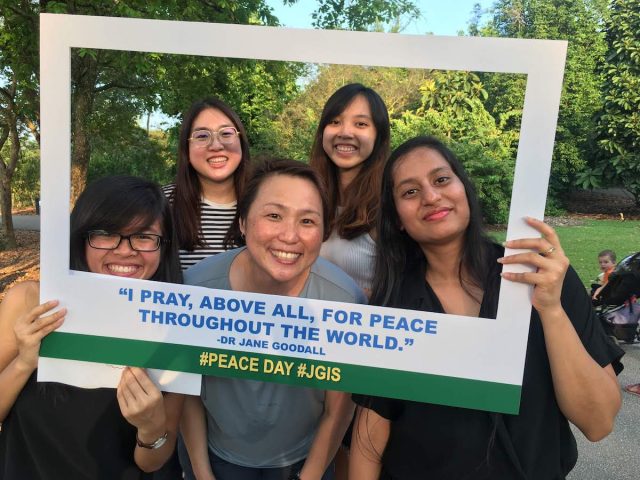 Sia Sin Wei
Did you know that the United Nations (UN) dedicates a day to strengthening the ideal of peace? This year, the International Day of Peace fell on 21 September. As our founder, Dr. Jane Goodall, is the UN Ambassador for Peace, the different Jane Goodall Institute branches around the world mark the International Day of Peace by hosting various events in their local communities.
Here at JGIS, we marked this year's Peace Day by hosting a picnic for our current (and prospective) volunteers. This gave our volunteers from different sides of our activities and operations to the opportunity to mingle and get to know other – an opportunity that they might not otherwise have had as our diverse projects keep us all so busy! Our Peace Day event also fostered a sense of belonging and bonding among our volunteers.
This year, we located our picnic in the picturesque landscape near the eco-lake at the Singapore Botanic Gardens. Nature just right next to us – what more we could ask for?
We started off with an ice breaker where everyone stood in a circle and introduced themselves.  It was great to hear about the variety of backgrounds and interests of our volunteers. Like organisms in our local ecosystems, each of our volunteers contribute to the JGIS community in their own way!
We then did a hands on activity and everyone designed their own, unique peace dove. Using our dove templates and the colouring markers, everyone was able to exercise their individuality in making their wishes. Most of our volunteers were able to make a good show of their creative juices, even in a very short time!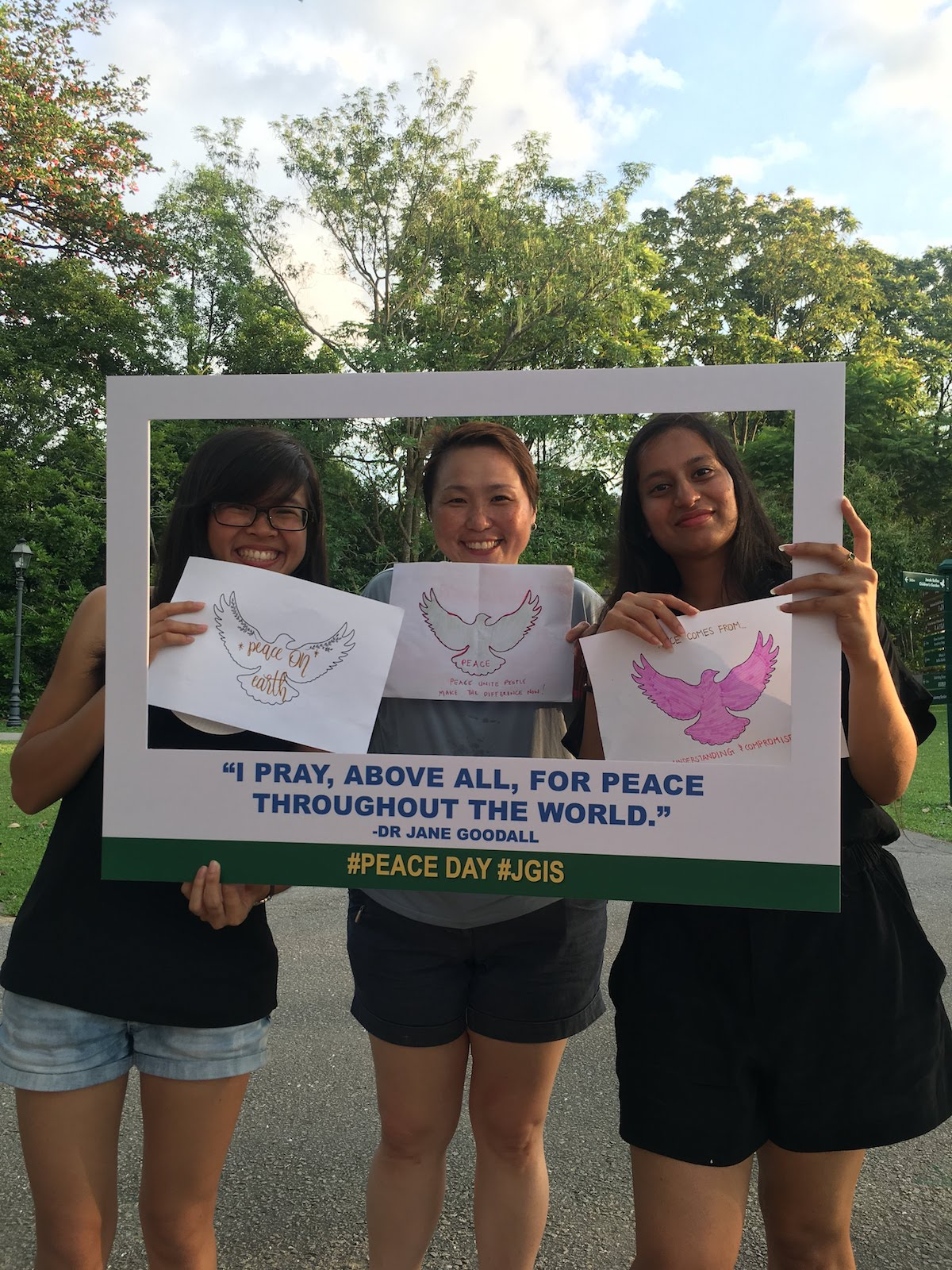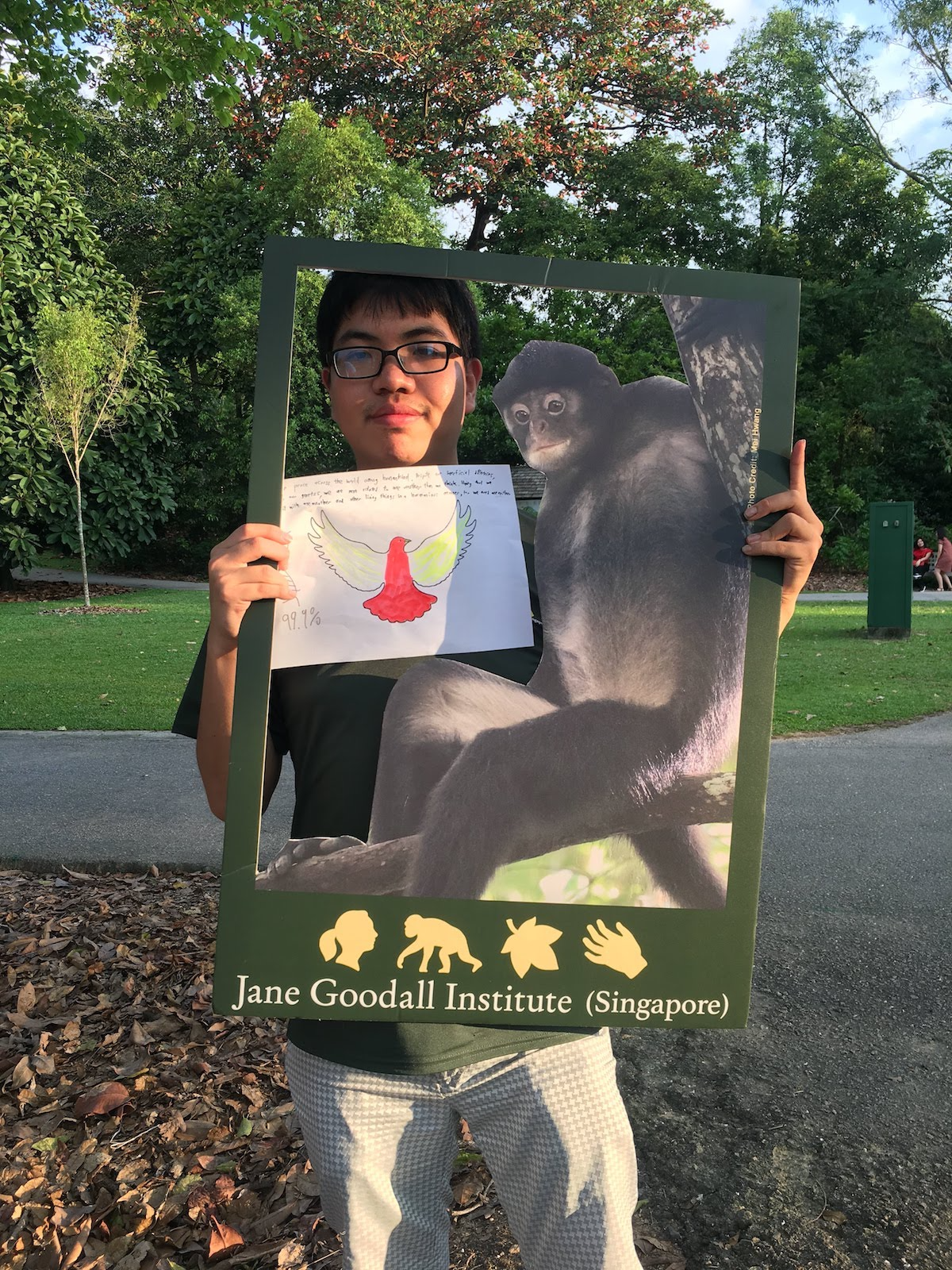 We all shared our doves and wishes for peace between humankind and for harmony between humankind and nature. It was very meaningful to exchange our hopes and wishes with our peers. In the words of one of our volunteers, peace can only come with "understanding and compromise". The most succinct recipe for peace that I have ever heard – let's hope humanity be enlightened and mature enough to heed it!
Everyone had great conversations over a wide range of vegetarian dishes from potato chips to cut fruits – which suit our ethos, as most primates have a diet focused on plants. All of us had a great time catching up with friends and fellow volunteers. We were lucky enough to have a guest, Emily, who has worked in both JGI Global and China in both a full time and volunteer capacity. The rest of us were spellbound as she gave us a window on how our overseas counterparts function.
Being lovers of wildlife, it would be remiss of us not to notice the various impromptu guests of the avian variety at our picnic. The pigeons roosting on top of the shrubs threatened to relieve themselves on us and our food until sundown. The black swans (native to Western Australia!), denizens of Eco-Lake, hung around us in the hope of a tasty tidbit. Obviously, they have become spoilt by various visitors to the lake. Sorry guys, we can't give you any! It was still a delight to view such charismatic birds up close – though some of us was surprised at how large swans are.
Our picnic ended as the sky grew darker, but the resolve of our volunteers to contribute to conservation never ended.
If you are interested in volunteering for JGIS, have a look at the opportunities we currently have open and please drop us a line!.
Our next event is our final Public Lecture event of the year! On 14 October at the Botanic Gardens Function Hall, Dr. Deus Mjungu, Director of Chimpanzee Research at Gombe National Park, will give a very special presentation on chimpanzee conservation in the very same national park where Dr. Jane conducted her breakthrough research. Please RSVP to join us for this incredible opportunity to learn more about our closest living relatives.
We hope to hear from you soon and see you at our future events!