[

7

minute read ]
By: Matthew Foo
Every year, the Standard Chartered Singapore Marathon (SCSM) Race Village – an annual and well established marque running event – turns the Padang into a sea swarming with people and a noisy crowd of over 50,000 runners.
Out of so large a community of runners, eight of them call themselves "The Hearty Ones". They wait together by the canopy of a white tent, an island of shelter amongst the throngs of people. One of them dons a long purple coat above a green vest. His face is chalk-white, with dark shadows over both eyes and unmistakable wide cheek-to-cheek red lips. Another is wearing a red shirt with green sleeves, a flowing yellow cape and, emblazoned as a crest on a uniform, is a yellow capital "R" on a circle of black. But the easiest to spot is, of course, Batman. Amongst thousands of others in blue and green sportswear; the comic book hero in ebony and ash-grey armour is instantly the most recognizable.
The 2017 SCSM marked the group's seventh year of running the iconic Singapore marathon. Typically, the run is dedicated to charitable organisations and "The Hearty Ones" run to raise awareness and funds for a cause, dressing up as iconic characters from film and entertainment. This year, they're DC comic characters: Batman, Penguin, Joker, Robin, Poison Ivy, Harley Quinn, and two Catwomen. It's an unlikely alliance.
Considering the group's track record of running for organisations like the Cerebral Palsy Alliance Singapore (CPAS) and the Children's Cancer Society in 2015 and 2016 respectively, the Jane Goodall Institute represents the group's venture into collaboration with organisations in a new field of volunteering.
"Usually, we've been running for Cancer Society and Children. Then we thought, we want to move on from there," says the character Penguin, whose real name is Eric. In 2017, the group decided to focus on an environmental cause instead. Having learnt about the Jane Goodall Institute through a friend who used to work for the Animal Concerns Research and Education Society (ACRES) the group's leader, Isabel (dressed as Harley Quinn), decided to dedicate the run to JGIS.
That friend's name is Sabrina. She's not a member of "The Hearty Ones", but she too ran the marathon, together with volunteers from JGIS. Optimistic about the benefits that publicity from SCSM can generate for JGIS, she says that when runners notice the eccentric dressing of the volunteers, they'll be "curious to know why they are dressed up like and the theme behind it". She believes that the running scene, with its popularity gaining traction and becoming more commonplace, is comparable to "a growing industry in Singapore" and hopes it will help to "bring awareness to a greater level."
"These runners, if you look in Singapore, will usually train in our nature reserves and our trails where they will tend to encounter monkeys;" says Sabrina, expressing her hope that such runners themselves will go on to network with the JGIS mission and raise awareness about human interactions with primates. Particularly, runners should be aware about "certain things they should or should not do" when encountering macaques, Sabrina elaborates.
But publicity is not the only aspect that can help JGIS to further its cause to support people living sustainably and in harmony with animals. "We will actually ask our friends to support us. Along with all the pictures we post online, we ask for people to donate directly to the charity," says Eric. Funds raised by the group also help JGIS to sustain its programmes like the Macaque Working Group and allows the organization to offer new events in 2018.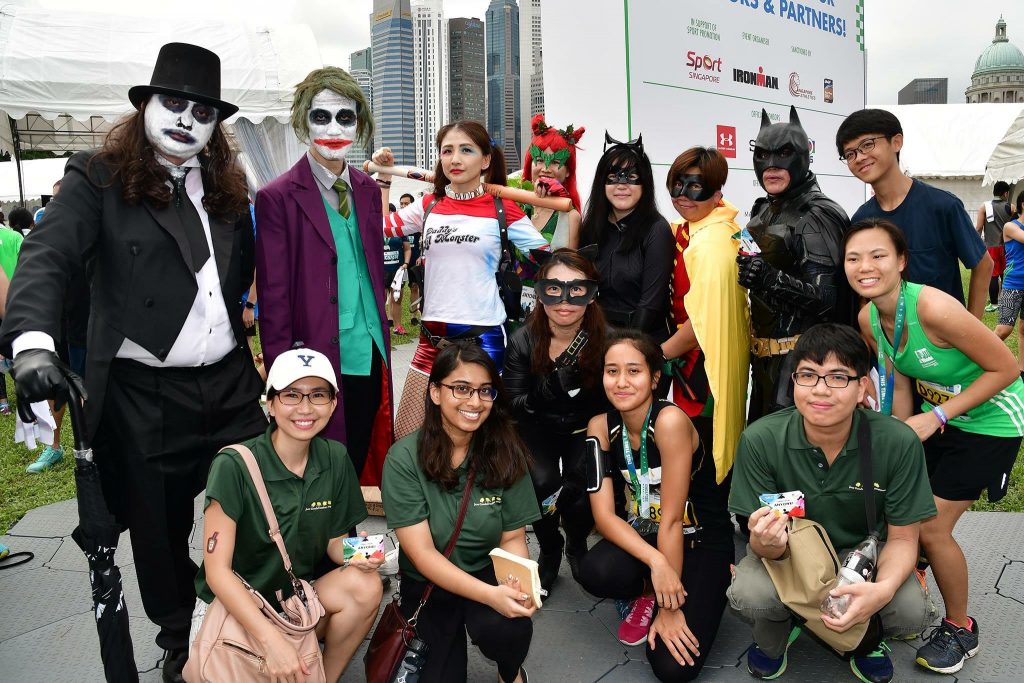 For "The Hearty Ones", SCSM race day begins earlier than for most other runners, and in a fairly regimental sequence. As early as four in the morning, the group meets in Bugis. They have an hour to have breakfast and finalise the last minute preparations, and then must be at Marina to dress up and paint on their makeup. Two and a half hours, according to Eric, is usually the time they need to prepare, before moving out as a group. Every race day is memorable, but not every race day is the same.
"Today, there was a slight hiccup, because of the road closure," says Eric, "I even saw buses that fetch the runners go to the wrong place." By the time the group wrapped their heads around the complex (and dreaded) road closures that are characteristic of mass sports events, it was already five o'clock. The group was late.
But a crew of DC's most prominent superheroes could not possibly have their breakfast bested by road signs. After an improvised takeaway breakfast, the team was back on track for their scheduled six thirty walk out. And by the seven o'clock flag off, the team was out in full force for the next ten kilometers.
"We had to take into consideration (people) taking pictures" Eric adds, "by the time you finish the hundred metres, thirty minutes are gone because people keep taking pictures!" he exclaims.
Unfortunately for the superheroes, race day also involves overtime while other runners have the chance to recuperate from the run. For close to a good hour, the group has to entertain countless other runners by posing for photographs and giving out cards explaining their cause for dressing up and requesting support. All this happens just twenty metres from the entrance into the race village.
Although race day is really busy for "The Hearty Ones," preparation for the run goes back to an arduous, meticulous process. Batman's costume was hand sewn, and the helmet was ingeniously improvised from a yoga mat using elephant glue. The Joker's nose, which unfortunately did not attach securely, was made of plasticine and painted black. The striking attention to detail goes down to the fingers, too.
"We only thought about it on Friday," Eric gestures to his three-fingered gloves, "because we realised Penguin is supposed to have three fingers. This is actually made. My friend, the Batman, actually did this."
And friends they have been. The first time the group was inspired to do this was for the 2011 SCSM , in the ekiden run segment. Thinking it would be a novel, exciting idea to dress up and run, even the ladies wore the Number 4 army uniform to the event, with the full band order. One inspiration pursued the other, and the group of friends were moved to dedicate their run for a cause.
"We wanted to give back to society."
Initially, the group attempted to collaborate with the organisers of SCSM to officialise their charitable interest. However, the dreaded prospect of reams full of red tape dulled the prospects of such an arrangement. That did nothing to stop the group from attributing their run to charity. In the subsequent years, they ran for numerous community organisations including the Children's Cancer Society and the Cerebral Palsy Alliance Singapore (CPAS). The costumes scrimped upon either: in 2016, the group was dressed as characters from Disney's Toy Story and put on costumes that weighed as much as 20 kilograms. In previous years, some members of the team threw on robes and became Jedi while other members evolved into curious looking visitors from a galaxy far, far away. This year, the costumes were much lighter.
Besides marathons, "The Hearty Ones" volunteer for other causes too. In 2016, the group volunteered time at centres for special needs children, giving out gifts and entertaining children. Still, admits Eric, "The Hearty Ones" mainly stick to SCSM. For a group of friends who met years ago and run together every month, the marathon is a finale lap for them. In Eric's words, the group's run is more than wanting to give back to society – it's something special.